HeartWood Furniture is a dedicated company of craftsmen producing fine Handmade Kitchens, Handmade Furniture and Craftsmen Joinery. As craftsmen we are passionate about designing and manufacturing bespoke kitchens and furniture that you can be proud of. Our approach is flexible and we will work to your own design requirements, or to predestined plans.
HeartWood will work with you throughout your project, combining our skills, experience and craftsmanship, to realise your individual vision of lifestyle, and will follow your project through from bench to installation, paying attention to detail and ensuring the highest quality finish.
We provide a full design to completion service to customers in The Cotswolds, Gloucestershire, Buckinghamshire, Oxfordshire and beyond.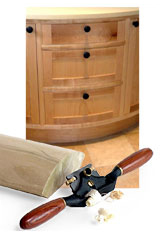 Handmade Kitchens, Fitted Kitchens, Bespoke Kitchens, Solid Wood Kitchens, Free Standing and Painted Kitchens. HeartWood will help you design your own kitchen to the finest quality to suite your exact requirement - turning your dreams into a reality.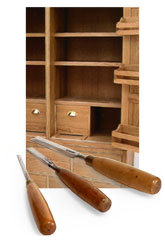 From concept to completion, we will work with you from your plans/sketches/ideas - a new study, freestanding bedroom furniture, built in wardrobes, or anything unusual then HeartWood Furniture can make it to your specification. You are guaranteed that all products are made from A grade sustainable timbers and will be hand built by master craftsmen to last a lifetime.


We use traditional Craftsmen methods using the best materials for the job. Traditional sash windows, spiral balance and casement windows. Stable doors, front doors, interior doors, garage doors, gates. Staircases: light/dark oak or softwood in natural or painted finishes.